Do you need woodpecker control, or a woodpecker removal expert for your home, or property? Maybe, you do not know how to get rid of woodpeckers or how to remove woodpeckers! Are you frustrated with repellents and gimmicks not working at your property in Michigan? You can call the experts at VaMoose Varmint to help you with your problem. Ask a VaMoose Varmint professional about one of their service plans that are available for removal of woodpeckers in your area.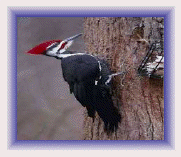 There are many species of woodpeckers in the state of Michigan. Here are some of the species in Michigan, the Downy Woodpecker, Red-Headed Woodpecker, Ladder-Backed Woodpecker, and the Pileated Woodpecker. The woodpeckers listed here mostly breed in January to March of each year. They will typically breed once a year but some species could breed twice in a single year. They will lay approximately 3-10 eggs per clutch depending on the species. It may take up to three to four weeks for the young woodpeckers to leave the nest.

The damage that is typically generated by woodpeckers is when they perform an act called drumming. Drumming is a common non-vocal sound used by woodpeckers to communicate. This sound is heard most frequently during breeding seasons, also establish and defend a territory, and to attract a mate or communicate between mates. Homeowners and utility companies are often concerned about damage to homes and property. However, there are many products now on the market to prevent this damage. Woodpeckers are protected by the US Migratory Bird Act. It is illegal to harm or remove the birds without a permit.


There are many effective and successful methods of getting rid of woodpeckers. Our professional wildlife experts have experience to provide effective solutions to resolve your woodpecker problem fast.

There are many companies out there, but not all of them are licensed and insured professionals. Make sure that you hire a competent expert for your woodpecker removal needs. At VaMoose Varmint, we will be courteous and friendly and take the time to answer your questions. Give VaMoose Varmint a call, and we will listen to your problem, and make an appointment to perform an inspection. VaMoose Varmint will remove woodpeckers in these Michigan Counties. Kalamazoo, Van Buren, St. Joseph, Calhoun, Berrien, Allegan, Branch, Barry, Cass, Ottawa, Eaton, Grand Traverse, Roscommon, Missaukee, Crawford, Kalkaska, Wexford, Otsego, and Antrim Counties.




Michigan's Woodpecker Removal and Woodpecker Control
How to get rid of woodpeckers

VaMoose Varmint!
Woodpecker Control & Woodpecker Removal
© Vamoose Varmint, LLC. All Rights Reserved. All images, text, graphics and materials are protected by U.S. and International copyright laws.