Do you need weasel control, or a weasel removal expert for your home, shopping center, restaurant, farm or industrial property? Maybe you do not know how to get rid of weasels or remove weasels! Are you frustrated with repellents and gimmicks not working at your location? You can call the experts at VaMoose Varmint to help you with your problem. Ask a VaMoose Varmint professional about one of their service plans that are available for removal of weasels in your area.

Weasels are family with skunks, badgers, mink, martens, fishers, ferrets, and wolverines. Michigan is habitat for three kinds of weasels, the least weasel, short-tailed weasel, and the long-tailed weasel. A weasels den site can be underground, in a tree, under a shed, or in the barn. A weasels diet is consists of insects, rodents, eggs, or what ever kind of meat they could obtain. Weasels are active year round. A weasels range can be from 3 to 40 acres depending on species of weasel and gender. The weasel breeds in late summer and will give birth to an average litter of 6. The young weasel will be mature in approximately 3 months.





Trapping and exclusion is an effective and successful method of getting rid of weasels. Our professional trappers have experience to be able to place traps in strategic locations to resolve your problem fast.
There are many companies out there, but not all of them are licensed and insured professionals. Make sure that you hire a competent expert for your weasel removal needs. At VaMoose Varmint, we will be courteous and friendly and take the time to answer your questions. Give VaMoose Varmint a call, and we will listen to your problem, and make an appointment to perform an inspection. VaMoose Varmint will trap weasels in these Michigan Counties. Kalamazoo, Van Buren, St. Joseph, Calhoun, Berrien, Allegan, Branch, Barry, Cass, Ottawa, Eaton, Grand Traverse, Roscommon, Missaukee, Crawford, Kalkaska, Wexford, Otsego, and Antrim Counties.
Disease Concerns:
Michigan's Weasel Removal and Weasel Control
How to get rid of weasels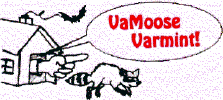 VaMoose Varmint!
Weasel Control and Weasel Removal
© Vamoose Varmint, LLC. All Rights Reserved. All images, text, graphics and materials are protected by U.S. and International copyright laws.
MICHIGAN CONTACT NUMBERS:
SOUTHWEST MICHIGAN: 877-782-6667
NORTHERN LOWER MICHIGAN: 989-348-2753
UPPER PENINSULA MICHIGAN: 989-390-5712