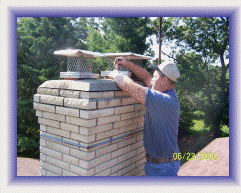 VaMoose Varmint!
Michigan Chimney Caps & Custom Chimney Caps
Stainless Steel Chimney Cap
Stainless Steel Chimney Caps in Michigan are an integral part of the chimney; the stainless steel chimney cap protects the chimney crown and lining from weather damage. With thoughts to damage a stainless steel chimney cap also protects the structure from wildlife entering the home through the chimney. There are many styles of stainless steel chimney caps available for use on the chimney. VaMoose Varmint Wildlife Services can install a chimney cap for almost all residential chimneys.
Custom Chimney Cap
Custom Chimney Caps are for those homes that have a chimney without a standard clay liner or the clay liners are too close together. Custom chimney caps also provide the same protection as the standard chimney cap. Chimneys that need a custom chimney cap needs to be measured for a proper fit. Custom chimney caps come in many different styles from stainless steel, aluminum and powder coated black. VaMoose Varmint Wildlife Services will install a custom chimney cap for the protection of the chimney, and will prevent wildlife entry.
There are many companies out there, but not all of them are licensed and insured professionals. Make sure that you hire a competent expert for your stainless steel chimney cap or custom chimney cap needs. At VaMoose Varmint, we will be courteous and friendly and take the time to answer your questions. Give VaMoose Varmint a call, and we will listen to your problem, and make an appointment to install a custom chimney cap, or stainless steel chimney cap for you. VaMoose Varmint will provide chimney caps in these Michigan Counties. Kalamazoo, Van Buren, St. Joseph, Calhoun, Berrien, Allegan, Branch, Barry, Cass, Ottawa, Eaton, Grand Traverse, Roscommon, Missaukee, Crawford, Kalkaska, Wexford, Otsego, and Antrim Counties.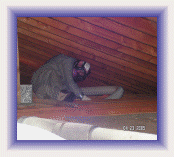 © Vamoose Varmint, LLC. All Rights Reserved. All images, text, graphics and materials are protected by U.S. and International copyright laws.
MICHIGAN CONTACT NUMBERS:
SOUTHWEST MICHIGAN: 877-782-6667
NORTHERN LOWER MICHIGAN: 989-348-2753
UPPER PENINSULA MICHIGAN: 989-390-5712