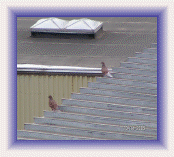 Do you have birds roosting, nesting, or loafing on building signs, roof tops, decorative structures, ledges or outcrops. When the birds occupy these places they will leave an awful mess. Bird droppings will remain on the structure for an unsightly appearance to the public or customers visiting you. This could have a negative outcome on how your guest may see you. An accumulated amount of bird droppings remaining in areas could become a public health risk. To prevent this, VaMoose Varmint can engineer a long term solution to keep the problem under control keeping you happy and your guests happy.

There are many companies out there, but not all of them are licensed and insured professionals. Make sure that you hire a competent expert for your bird pest control and bird removal needs. At VaMoose Varmint, we will be courteous and friendly and take the time to answer your questions. Give VaMoose Varmint a call, and we will listen to your problem, and make an appointment to perform an inspection. VaMoose Varmint will provide bird pest control in these Michigan Counties. Kalamazoo, Van Buren, St. Joseph, Calhoun, Berrien, Allegan, Branch, Barry, Cass, Ottawa, Eaton, Grand Traverse, Roscommon, Missaukee, Crawford, Kalkaska, Wexford, Otsego, and Antrim Counties.

Engineered Bird Exclusion

VaMoose Varmint!
© Vamoose Varmint, LLC. All Rights Reserved. All images, text, graphics and materials are protected by U.S. and International copyright laws.
MICHIGAN CONTACT NUMBERS:
SOUTHWEST MICHIGAN: 877-782-6667
NORTHERN LOWER MICHIGAN: 989-348-2753
UPPER PENINSULA MICHIGAN: 989-390-5712